Pedicures
A beautiful finishing polish completes all of our pedicure treatments.
Sugar Cane Signature Pedicure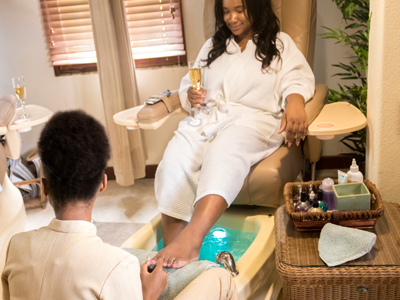 75 mins 
$130 
Get your feet ready for another go around! Bathe your feet in our relaxing bath crystals. After grooming, a body serum is used to tone and invigorate legs and feet. A moisturizing body cream massage is then applied and feet are wrapped in warm towels to enhance penetration. This treatment is topped off with a soothing leg gel which will relieve and refresh tired legs.
Caribbean Sea Pedicure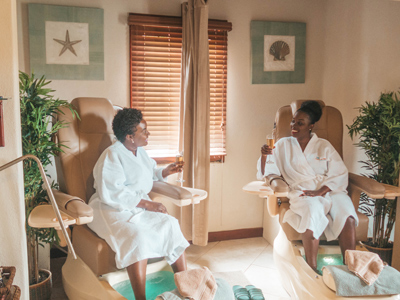 90 mins 
$125 
Pamper your feet with the natural therapeutic effects of the sea. The feet are first submerged in our enriched seawater bath, to soften, renew and restore the feet's vitality. Grooming, followed by  a granule exfoliation, prepares your feet for our lower leg and foot massage. This revitalizing treatment is then topped off with your choice of gel polish.
Souffle Marin Detoxifying Pedicure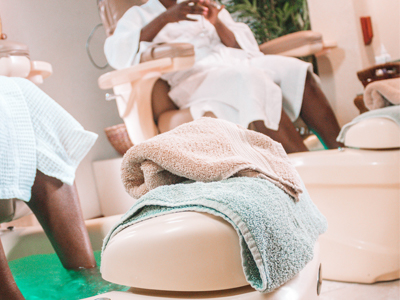 75mins 
$100
Experience the rejuvenating and healing effects of our detoxifying mineral foot soak in this powerful nutrient-rich,  marine therapy. Nail shaping,  cuticle maintenance,  exfoliation and warm towel therapy makes your feet feel like new. This nourishment for the feet.
In Zone Foot Therapy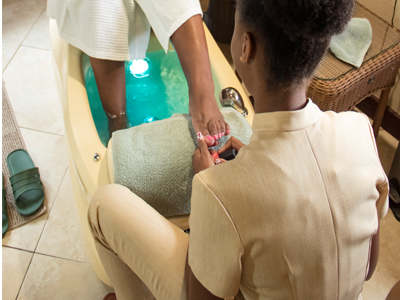 60 mins 
$170
This soothing foot therapy consists of a foot soak, feathered brush strokes of our warm golden mask, wrapped snugly. A Hot stone massage with Zone walking therapy, focusing attention to the soles of your feet. This treatment gives your feet that much-needed attention and will leave you feeling like you are walking on clouds.
ALL PRICES ARE IN BARBADOS DOLLARS.
ALL RATES ARE SUBJECT TO A 10% VAT & 2.5 LEVY TAX
 No further discounts will be given on Nail Services, Beauty Treatments, Hydrotherapy Baths & Spa Packages 
FOR RESERVATIONS CALL  1-246-422-5026 Ext.3036