Gel Nail Enhancements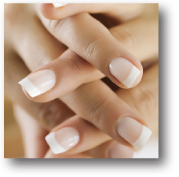 UV Sculpting Gels are a fresh, easy approach to natural nail enhancements. Create natural looking overlays on the natural nail to give added strength or extend with tips. Gels offer the versatility of being durable, thin, flexible and natural looking. Choose from the natural look to the perfect long lasting French manicure.
Nail Extensions
The perfect opportunity to wear beautifully cared for nails in almost an endless variety of length and strength.
Overlays
Give the natural nail that added strength and flexibility.
Rebalancing
UV Gel Enhancements must be rebalanced every 2 to 3 weeks depending on how fast the nails grow and type of work they do.