Body Cocoons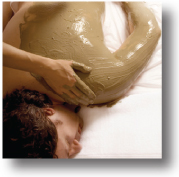 All full-body cocoons begin with a dry brushing to remove impurities while preparing the skin for the penetration of natural elements contained in the body wrap. After a full body application of body masque the body will be cocooned for ultimate relaxation and absorption of active nutrients. Unwind during a relaxing scalp massage, and enjoy a custom-blended moisturizer mixture as the treatment's finale.
Detoxify and Refortify Body Treatment (50 mins)
Wrap yourself in a self-heating and bubbly mud drawing out toxins and impurities while infusing your skin cells with all the minerals and trace elements it craves. A unique mixture of seaweeds and seawater allows this treatment to completely detoxify and remineralize you in one treatment. Drink lots of water and enjoy a refreshed feeling of lightness and balance.
Sun Recovery Wrap (50 mins)
Refresh your skin with the treatment it thirsts for after a day in the sun. Regenerate your skin with an aromatic gel enriched with marine minerals and tropical flower extracts. This cooling, calming after-sun wrap envelops the entire body, while the scalp is massaged. Enjoy a warm shower followed by a refreshing moisturizer and serum which aids in absorption leaving your skin smooth, moisturized and quenched.
Caribbean Legend Gold Body Wrap (50 mins)
Legends tell of golden riches scattered into the sea when ships failed to make their destination; indulge in those ancient tales. Your sensorial journey begins with a gentle exfoliation followed by an invigorating shower. Next, a buttery, warm cocoon moisturizes and remineralizes every inch of your skin, while scalp and feet are massaged. A gold-flecked body oil is massaged into your skin then lightly dusted with luminous powder to reveal outer radiance that is as good as gold.